Close X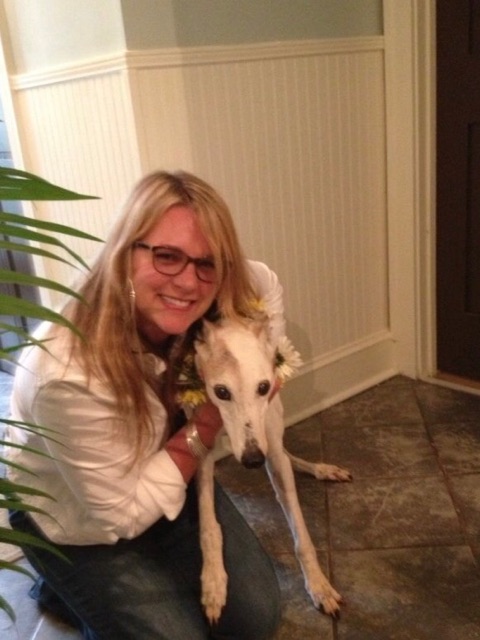 This is her story
While I grew up having dogs for family pets, I thought my heart was going to explode with dog love in 2001, when as a young adult, I experienced the wonderful feeling of being "chosen" by a dog. It's indescribable really, but many of you know what this means. Your heart is filled with love and joy and all of a sudden, your life has more meaning, as you embrace the responsibility of caring for this precious life. I'm sure this is a similar feeling to that parents have when they first meet their new baby. And why wouldn't it be? For many of us, this is our first, if not our only experience into parenthood.
I had been looking for a retired Greyhound for a few months and met several available for adoption. Daisy had the sweetest eyes. I'll never forget that day. She walked over to me and pushed her little wet nose into my lap and looked up at me with those sweet, sweet eyes. It was love at first sight. Daisy settled into my life beautifully and eventually moved with me to Houston. A few years later and after several successful years as a pharmaceutical sales representative, I was promoted to Regional Sales Manager, which required me to relocate to Atlanta. For about one year, and prior to my official relocation in 2007, I worked out of town for 4-5 days every week. My parents recognized Daisy as family and helped me immensely during this transition. As extraordinary grandparents do, they traveled five hours every week for one year to see their "grand dog" and care for her in my absence.
Most dog-loving folks are probably familiar with the question, "Who rescued whom?" And anyone who has ever had a rescue dog gets it! In the course of almost 13 years, I had the sheer pleasure of loving this dog and being loved by her. She was so easy to love. She moved with me 7 times and offered comfort while I grieved two miscarriages and a divorce. She also gave me confidence and companionship when I moved to a new, big city where I knew no one. She became my camping and hiking companion, my best friend and she commiserated with me over a couple of post-divorce relationships, a career change, my 40th birthday, and subsequent mid-life awareness. I've never thought of this time of my life as a crisis. There were moments of painful awareness relative to loving so much that the gravity of loss is excruciating. But it was in those moments that made me ponder time and purpose, coupled with a unique business idea I had one day, that fueled my entrepreneurship and decision to pioneer Atlanta's first dog hiking service and mobile doggy daycare.
My love for Daisy and the sadness that occurred because of me working long hours, sparked the idea to create this company. We lived near some Chattahoochee nature trails and to alleviate some of my guilt for being gone for long periods, I began taking her on hikes as often as I could. When she realized we were going on a field trip, she became a different dog. She was enthusiastic anytime she saw the leash, or heard "You wanna go for a walk?" But her reaction to hiking was very different. I noticed how it opened her world to new smells, sights, sounds, textures and how this experience made her life better. She was less restless. She slept more soundly. She was healthier and happier. It was in 2010 when I first wondered how people would respond to a business that created this type of joyful experience for their dogs when they were not able to do so. Daisy was my original Chattapoochie, hence the name, Chattapoochie Dog Hiking Adventures.
It's Perspective
Have you heard the expression about a dandelion, "Some see a weed, others a wish?" There are so many moving parts to this venture and it was scary to leave a lucrative career where I'd experienced much success. There was no other way for me though. I am not a person to do anything half-heartedly. So, I quit my job and started this new adventure. When I get unsettled, all I have to do is think about this time of my life with Daisy, and I'm filled with so much gratitude that I was inspired and led to do this. Daisy lived to be almost 15 years old, which is quite a long life for a large dog. I contribute much of her long life to the quality of the life she had.
I'm passionate about helping both dogs and people. I've been in your shoes. If you work long hours, travel, are a busy parent, can't quite meet the energy needs of your dog, or you just simply want what is best for them, then my dream come true can be yours, too. I'm inspired by every single dog that I meet. They are our best friends, our loyal companions and part of our family. If you can relate to my love and my labor of love story, then this service is for you and your beloved pooch. Contact us to reward your dog-child with a weekly gift of happiness - a unique, healthy, adventure experience.
Leslie has extensively studied dog history, behavior observation, science of learning theories, screening, proper group composition, and pack walking dynamics. She's a member of the Association of Professional Dog Trainers and received a dog walker certification from dog*tec, where she studied under Mik Moeller and Veronica Boutelle, highly respected authorities on dog – dog issues, socialization, and rehabilitation. She's also certified in Dog CPR and Wilderness First Aid through Pet Tech. She now has over 2,000 hours of effectively putting her studies to practice with Chattapoochie Dog Hiking Adventures (CDHA).
Close X